Empowering Classrooms with Digital Technology
By leveraging technology, the world is moving quickly towards adopting innovative methods in teaching. It is imperative to provide students in India with efficient means of education and transform them to excel globally. Owing to Digital India initiative by the Government, India is becoming a digitally connected country. Many educational institutions began to transform their teaching methods by equipping their classrooms with the latest digital technologies to reap the benefits of e-learning. Embracing this e-learning trend, many vendors came up with solutions to digitalize the classrooms. However, Smart classrooms and implementing e-learning is not limited to digitally equipping the classrooms and converting the content in books into digital format. Another difficulty with e-learning is a huge disparity between the actually prescribed syllabus and the available digital content.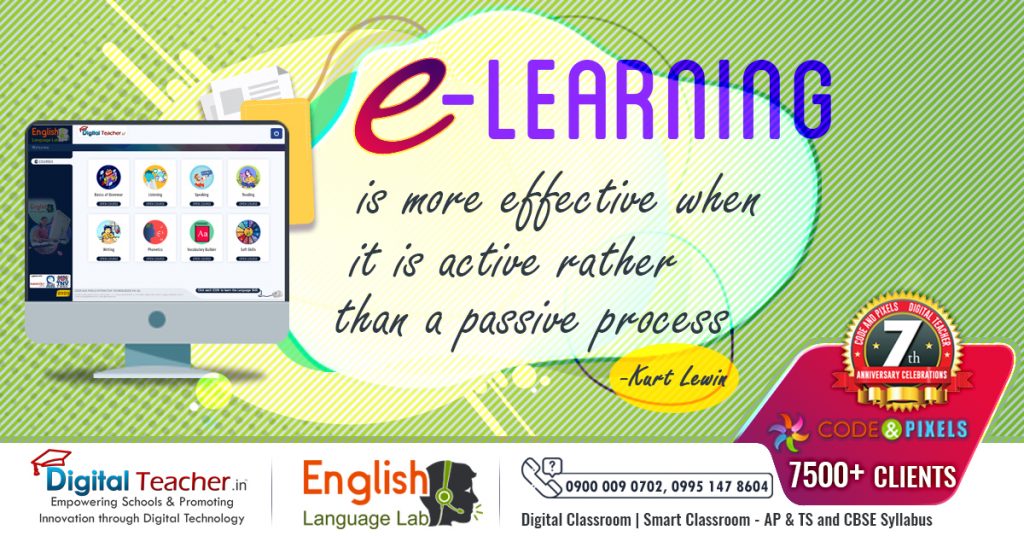 The traditional and teacher-centered methods of teaching have led to creating a huge gap in teaching-learning experience isolating the teacher from students and leaving a weak student behind. Understanding the limitations of traditional classroom training and challenges in e-learning, Code and Pixels, a Hyderabad based company came forward with its comprehensive suite of digital solutions providing content that is 100 percent mapped with the prescribed syllabus to convert the conventional classrooms into digital classrooms. "In 2012 and 2013, we did research on 10,000 Schools and found that no school is getting 100 percent syllabus mapping to state boards. We have evolved as the best content supplier and could win the confidence of 2000 Schools in the first year. Gradually we have won the confidence of many International and corporate reputed group of schools and now around 7,500 schools are happily using our content as a Smart classroom solution," says G. Gopi Krishna, CEO & Managing Director, about evolution and services in the industry.
It is an inarguable fact that English is a global language; however, many students in India face difficulties in speaking English effectively. A language lab serves as digital mentor for students, enabling them to practice without depending on instructor for guidance. Digital Teacher English Lab is a stand-alone and self-learning modern Language Lab that follows the CEFR (Common European Framework of Reference) and Cambridge English Teaching Framework. Digital Teacher English Lab which is a combination of Technology and Knowledge is designed to suit learning requirements of Indian students. Digital Teacher is serving over 6000 Educational Institutions in India to improve communication skills with the help of English Lab.
Code and Pixels has successfully partnered with Hyderabad University, Madras University, Mumbai University, JNU, Anna University and many other universities across the country to provide e-learning platforms. "We are technology partners of UGC and INFLIBNET in development of Government of India's prestigious project MOOCS. We have also served DRDO, BDL, BEL, ECIL, Army college , Police academy, NTPC, L&T,TATA, SBI, Andra Bank, Band of Baroda, Canara bank and many more Defence labs and corporate companies
Currently, 75 percent of our business related Smart classrooms/Digital Classrooms, English Language Labs is from Andhra Pradesh and Telangana. We are in the process of expanding our services to other parts of the country. Our Team is working on AR, VR and Simulation-based Learning. In next few months we will be ready with advanced technologies of AR and VR to serve the best for our clients and help them in digital transformation of their learning platforms," concludes G. Gopi Krishna.